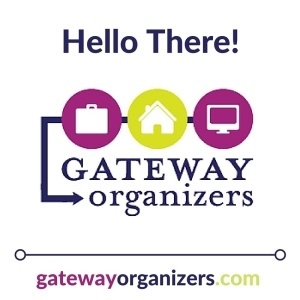 After months of work behind the scenes, we are thrilled to introduce you to Gateway Organizers. We are an organizing team founded by three experienced professional organizers, and we want to be your gateway to success!
Who is Gateway Organizers?
Gateway Organizers is a three partner team: Shannon Tamme (formerly of Shannon Tamme, LLC), Shelly Collins (formerly of Clutter Contained) and Jennifer Stewart (formerly of Organizing by Jennifer).
Why did we combine forces?
The decision to leave each of our individual businesses behind to form a new company happened when we realized that we were already working together under our individual brands by referring clients to each other when the project called for an area of expertise outside of our own.
By combining forces, we are now able to offer a more complete set of organizing expertise and solutions under one roof. As organizers we love efficiency, and working together as a partnership allows us to collaborate as a team on your projects and to make sure you're always working with the right expert for your needs.
Check us out!
To learn more about each of us you can visit our Meet the Team page.
For organizing tips and inspiration, join us on Facebook, Twitter, and Instagram.