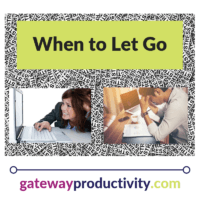 If you find yourself constantly putting out fires and reacting to what is happening rather than taking proactive action, you likely need to consider how you can delegate or outsource some of your workload. For entrepreneurs, this is especially important because you need the time to work ON your business, to do the high value, big picture work that will help you grow, rather than being stuck working IN your business.
Delegating or outsourcing is crucial for all entrepreneurs, especially if you are in a solo business and you aren't quite ready to hire. In order to decide what to delegate/outsource, ask yourself a few questions:
What do I love doing in my business?
What do I hate doing in my business?
What high value tasks do I want to spend more time on in my business?
Start with the tasks that you hate doing and ask yourself:
Which tasks can be delegated to an employee or outsourced?
Who can I delegate/outsource these tasks to?
Starting with tasks that are easy to delegate/outsource can make the transition easier. Here are some examples for multi-person businesses:
Delegate administrative tasks and incoming phone calls to your assistant

Hire an assistant if you find that you're overwhelmed with these types of tasks

Delegate ALL accounting tasks to your Accountant or Controller – trust them to take care of it, or hire someone you trust

Checks and balances are good, but don't hang on so tightly that it's a detriment to your productivity

Hire an IT company to handle your technology issues, especially if you haven't grown enough to have in-house IT yet
Here are some examples for solo entrepreneurs:
Hire a bookkeeper to do your financials
Hire an IT company to handle your technology issues
Hire a virtual assistant to handle administrative tasks, incoming phone calls, or marketing tasks
If you know what tasks you want to outsource but are struggling to find the right person, ask other business owners you trust (like us!) if they have a resource to share. Good luck letting go.