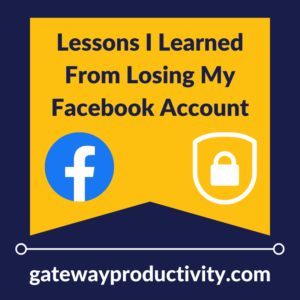 Lessons I Learned From
Losing My Facebook Account

I know, after reading that title, you're probably wondering how a technology trainer could have technology trouble. But I promise I'm just like you with a little extra technology background and experience sprinkled in. And as much as I excel in Windows and email programs, there was more to my social media security than I realized. I learned what I was missing the hard way 2 weeks ago.
 
What I thought would be a typical Tuesday morning…
I went to work on Tuesday morning and saw an email from Facebook giving me a code to change my password at 3:00 a.m. I was sleeping at that time, so immediately I was concerned. The next emails were the beginning of a nightmare. They were confirmations that my password had been changed…twice! Thus began a long, drawn-out battle to try to regain access to my Facebook account, and ultimately my Facebook business page. Spoiler alert – I never regained access; although you probably figured that out from the title.
 
What I tried…
I tried all of the things that the experts from Google searches told me to do. I won't try to list everything for you here, but the steps included clicking on the "This wasn't me" links in the emails from Facebook, trying to log into my account a dozen different ways, submitting my driver's license and ultimately, as a last resort, sending an email to Facebook which I don't expect to hear back from. You see, the hacker who took over my account immediately changed the email address associated with the account and removed my phone number. Therefore I couldn't have a code sent, so Facebook didn't believe it was actually me. To make matters worse, I was the only person tied to my business Facebook page, so I no longer have access to it either. I suppose it will forever sit dormant unless I hear back from Facebook in the future.
 
Here are the lessons I want to share with you…
I had a lot of security set up for my Facebook account and truly thought I had done everything I needed to do. Unfortunately, I was wrong. Based on my errors, here are the lessons I've learned so that this NEVER happens to any of you:
 
If you're a solo business owner, ask a friend, family member or colleague to be an additional admin on your business Facebook page.

Set up 2-factor authentication, potentially using a third-party authenticator app like Google Authenticator, Microsoft Authenticator or Duo Mobile. 

Set up alerts for unrecognized logins.

Choose 3-5 trusted contacts in your friends list who can try to help you get back into your account if you get locked out.

Remove Facebook access to apps you're no longer using.

Have unique passwords for all of your accounts. Yes, I hear the groans. It does take a very long time to change them all, but remember that if the hackers get one, they'll have them all if they're the same, and it won't matter how strong that one password was.

If your Facebook account does get hacked (i.e. someone logs in as you), log in as quickly as you can, if possible, and change your password.
What's next…
The good news is that it seems that Facebook got the message that I didn't make the password change, and they deactivated my Facebook account. However, I'm sadly in a state of "Sit and Wait" now. I have decided to no longer have a Facebook account or try to recreate my business page since the dormant page is still sitting there occupying my company name. I will let you all know if I hear back from Facebook. I've heard it can take anywhere from a few weeks to a year if they even reach back out. In the meantime, please make sure you're implementing all you can from my lessons learned.

If you want to pick my brain about any of this or need help with some of the steps, feel free to set up a time to talk to me by clicking this link.