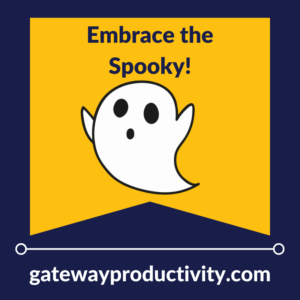 So many times we see the uncomfortable actions we need to take as fearful or spooky, if you will (it's spooky season, let's go with it!) You've probably heard many times that we only grow when we step out of our comfort zone. It seems cliche, but my 12-year-old niece reminded me that it's absolutely true.

I recently had the privilege of taking my niece to her first haunted house…on scaredy cat night. LOL.
It just so happens that we're both scaredy cats, and we're proud of it. We enjoyed looking at the decor and appreciating the extreme effort it took to put everything together. We loved the amusement park theme the homeowners chose and marveled at how many areas around their house they had converted for this purpose. What a gem for the community!

My niece had never been to anything like this, so it was a step out of her comfort zone and definitely something spooky. My husband and I were so proud of her. She and I discussed how she can now confidently tell her friends that she's been to a haunted house…no details needed. The look of confidence and pride on her face was priceless. She even said she wanted to go again next year (win!)

If a 12-year-old can do it, you can too!! Embrace the uncomfortable, spooky action you've been avoiding.