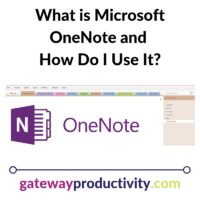 So many times I hear about people who have seen the Microsoft OneNote icon in their Microsoft Office suite, but they have no idea what it is.
What is Microsoft OneNote?
Microsoft OneNote is an electronic binder (or notebook, as they call it).  You can compile electronic information from emails, websites, documents, videos, and much more.  In addition, you can share your notebooks with others through the Internet.  Some great features of OneNote include the following:
Ability to create multiple notebooks on different topics
No auto-formatting within the program

You can put things where you want them, which is often hard in other Office programs

Auto-save (need I say more?)
Powerful search function

You can search through all your notebooks' content at once

Ability to draw & create flow-charts within your notebook
Ability to share specific notebooks with others
Start playing with OneNote this week & say "Good-bye" to information overload. The program is user-friendly & intuitive.
Here's a link to some basic instructions, in case you need them:
http://office.microsoft.com/en-us/onenote-help/basic-tasks-in-onenote-2010-HA101829998.aspx
How do I use OneNote?
Sometimes it's hard to visualize how we would use a new program or app. So, below is a list of ideas of ways you can use OneNote to become more productive and no longer lose all of the important information coming at you every second.
BUSINESS
Create one notebook for each class/workshop you offer

Each tab in the notebook represents a part of your talk (i.e. opening, topic 1, topic 2, topic 3, closing)

Create a notebook for each client if you're doing extensive research for them on many topics
Create a notebook for anything new you're researching & break down the parts of the research into the tabs
Take notes during meetings directly in OneNote
Keep a tab in a notebook for all of the blogs you follow
Keep your goals in OneNote and share them with an accountability partner
Master to-do list
Create your procedures in OneNote

The extensive search function makes it easy to find what you need

Notebook tab ideas: Blog ideas, Newsletter, Business Plan, Procedures, Website, Clients, Professional Development
PERSONAL
Master home maintenance to-do list
For students, each notebook can represent a class
Wedding planning notebook
House hunting log
Notebook tab ideas: Health, Kids' activities, Retirement, Recipes, Books to read, To-do list, Travel
Below is a link to instructions for creating or customizing existing Microsoft OneNote page templates:
https://support.office.com/en-ie/article/create-or-customize-page-templates-2c92ef65-06aa-4b01-9bae-4fc2e7361806#template=2016
The sky is the limit here! Use your imagination and put OneNote to work for you.