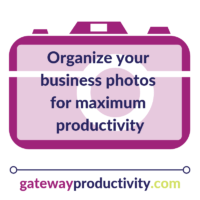 A picture may be worth a thousand words, but having a thousand pictures with no organization is a disaster and a headache!
Unfortunately, there isn't a one-size-fits-all organization system.  You need to spend a little time deciding what you want from your system.
Here are a few questions to get you started:
Do you find it easier to search for photos by project/event or year/date?
Do you have hundreds of marketing photos and need to organize by product/service?
Do you want your photos backed up at the same time that you organize them?
Once you've determined what you need from your photo organization system, you can create folders to keep you productive as you work with your business photos.
Here are a few organizational ideas to start with:
Create a folder for each client with all of their project photos.
Create folders for each year and have subfolders for each project/event.
Create folders for projects/events, if you have ones that happen every year, and have subfolders for the years.
For marketing, create a folder for each product/service or create a folder for each type of marketing if the photos are specific to a certain marketing type.
Use a photo management program to help organize if you want.

Examples: Windows Live Photo Gallery, Picasa & iCloud
Some photo management programs offer backup, but you'll usually have to pay as you store more photos (Google Picasa and iCloud are two examples)

Create your folder structure on an external hard drive for an on-site backup.
No matter how you choose to organize your photos, be sure to use a system that's customized to you, and aim to find your photos in 15-20 seconds…that's when you'll know you're on the right track.
For a list of additional photo management programs and software, here is a link to a great article at pixpa.com called "Top 25 Photo Organizing Software and Apps of 2021."