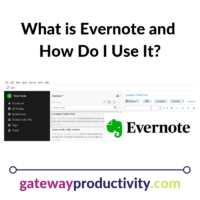 We have so much information being sent our way every second of every day that it is overwhelming for even the most organized person. One tool that I use with my clients to lessen the overwhelm is Evernote. It is a program/app that allows you to easily organize the loads of information coming your way every day on all your devices.
What does Evernote do?
In Evernote, you can create notebooks and fill them with electronic information from emails, websites, documents, videos, and much more. In addition, you can share your notebooks with others online. Some great features of Evernote include the following:
Create multiple notebooks on multiple different topics
Assign "tags" to each note in a notebook to make it easy to find
No saving necessary – auto-save is built in (how exciting is that?!)
Powerful search function (can search through all notebooks at once)
Scan business cards
Share specific notebooks with others
Create audio and video notes
Annotate your notes (write on them)
There are so many ways you can use Evernote to become more productive and keep track of the constant barrage of information coming at you. If you're not sure what types of things you would put in Evernote, here are some ideas to get you started:
Business Notebook Ideas
Create one notebook for each class/workshop you offer

Choose tags based on the different parts of your talk (i.e. opening, topic 1, topic 2, topic 3, closing)
You'll be able to gather all the information in one place and easily go through ideas at a glance by searching the tag

Create a notebook for each client, especially if you are doing extensive research for them
Create a notebook for anything new you are researching, and break down the parts of the research into the tags
Keep your goals in Evernote and share them with an accountability partner
Put your to-do items in Evernote and tag them as "to-do" so that when you search by the tag, you have your to-do list ready to go
Create your company procedures in an Evernote notebook

The extensive search function will make it easy to find the procedures, no matter how you organize them

Tag ideas: Newsletter, Blog, Business Plan, Procedures, Website, Clients, Professional Development, Certification
Personal Notebook Ideas
Master home maintenance to-do list
For students, you can tag your notes with each class or teacher, or you can create a notebook for each class
Wedding planning notebook
House hunting log
Tag ideas: Health, Kids, Retirement, Recipes, Reading List, To-Do, Travel
Download Evernote today (it's free at www.evernote.com), and pick one thing to save there. Maybe start with something simple, like recipes (that's what I do), or information for an upcoming vacation, or research from websites for an upcoming presentation. No matter what you choose to use Evernote for, you'll be saying "Good-bye" to information overload!
If you need some basic instructions to get you started, here is a link from Evernote: