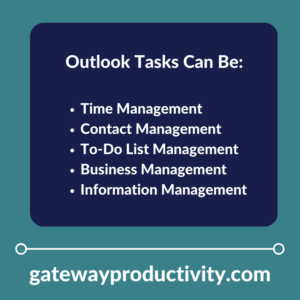 Have you ever wondered "What's an Outlook task?"
Or, if you already use them, have you wondered how to do more with Outlook tasks?
It's time to reveal the secrets of Outlook task "magic"ment…uh, management…so it's no longer a mystery.
What is an Outlook task? 
According to Microsoft: "Many people keep a list of things to do — on paper, in a spreadsheet, or by using a combination of paper and electronic methods. In Microsoft Office Outlook you can combine your various lists into one list, enhanced with reminders and tracking."
However, I believe tasks can do much more.  Here are just a few of the ways I use Outlook tasks:
Time management: Schedule when to accomplish to-do list items & take control of your schedule.
Contact management: Keep track of client follow-ups, keep notes regarding meetings, and tie tasks back to specific clients.
To-do list management: Create a task every time you think of something you need to do – this eliminates the step of writing a to-do list, and it lets you set a due date.
Business management: Categorize your tasks into business departments (Admin., Marketing, Biz Development, Lead Pipeline, etc.), and you will have a way to see what you are spending most of your time on. This can give insight into business growth needs (outsourcing, hiring, delegating, etc.)
Information management: Create a to-do item task about researching something, and then you can attach emails to the task, copy links to websites, copy text from emails and websites, and you'll have all the information you need in one place.
Still have questions regarding Outlook tasks?  Book a free Tech & Productivity Training Consultation to get your questions answered.